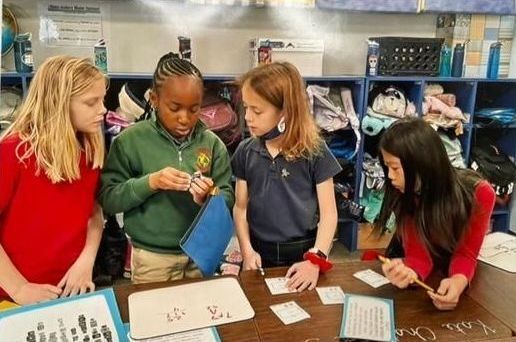 Armed with black light pens and a series of clues, Jaxson, Kate and Maya searched their classroom for hints that would help them unlock their next puzzle. The room was buzzing with excitement and teamwork!
These student detectives were solving puzzles that were a part of an escape room kit designed for students and purchased by the LPS Foundation. The kits include many useful tools, such as locking bags, black light readers and pens and different types of locks.  
Littleton Academy Teacher, Alicia Cox, says, "Students are learning how to work and communicate effectively in different group settings to solve subject-based problems. For example, to reinforce strategies in solving multiplication and division problems, students had to work together to explain their strategy in order to unlock and move on to the next problem/activity." The process can also be used when reviewing social studies and science units and in demonstrating understanding of grammar classification. 
Each escape room kit was $165, but the gift of hands-on learning is worth so much more. Imagine the innovative educational experience you can provide when you give a gift to the LPS Foundation.