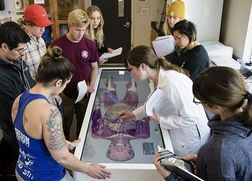 Did you know that in addition to giving out grants, the LPS Foundation also applies for grants that aid in our mission to "support each LPS student on their unique path to success?" We applied for one such grant earlier this year. The grant, delivered to our corporate partner, Chatham Financial, asked for $100,000 to purchase an Anatomage Table for the Health Sciences Pathway at the Explorative Pathways for Innovative Careers (EPIC) campus.
An Anatomage Table is a full-body virtual dissection table with a human-length touchscreen. The table trains students in dissection and pathological diagnosis and increases students' preparedness for medical careers. In addition, using the Anatomage table helps raise practical-application test scores.
EPIC Health Sciences Pathway Lead, Heidi Mahn, MSN, RN, said, "The Anatomage table will help students by providing a virtual cadaver without having to leave the classroom. They will be able to explore each body system in depth while gaining a further understanding of overall human function. We are so grateful for the opportunity to use state-of-the-art technology to provide meaningful learning experiences for students."
Chatham Financial funded our grant request thanks to their initiative to give 1% of their profits to charitable organizations. Because of their commitment to supporting communities, LPS students will gain access to graduate-level healthcare curricula as they dissect, diagnose, and visualize the pathology of 3-D cadavers.