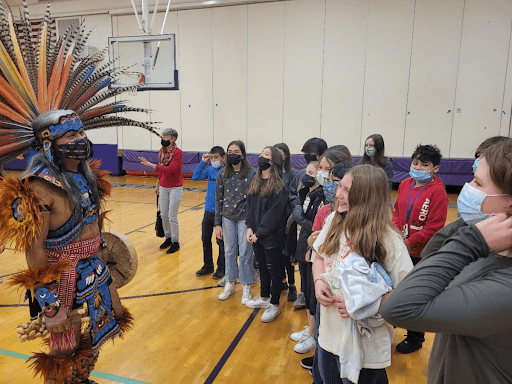 Goddard Middle School students' ancient western hemisphere unit came to life when the Grupo Tlaloc Danza Azteca visited their classroom to share music, dance and stories about their culture and traditions. 
Student Kora L. shared, "It was so cool to see the dancers and be part of their tradition. I loved their costumes and Carlos' [the troupe organizer] stories of each of the dances."
The students also made traditional hot chocolate, hosted a marketplace to trade goods, and made pan flutes as a part of their studies. Teacher Shayna Wood said that the experiences cemented the lessons of the unit. In fact, two months later, she says students are still making connections to their learning from this experience. 
"I liked when we studied about the Aztec, but it was even better when we got to do some of the things they did."- Yamileth H., a student in Ms. Wood's class.
The funds for the dance troupe and the supplies for the other Aztec activities were awarded to Ms. Wood as part of our grants to teachers program. Thanks to our donors for supporting innovative learning activities like this one.