Grants to Teachers
The 2022 Grants to Teachers application is OPEN!
The LPS Foundation Board of Directors have approved $115,000 to award out and we can't wait to see how these dollars will help support, educate, inspire, and prepare LPS students in their educational and life journey! 
Educator Grant Information
The grants are broken into these categories:
Any Individual teacher/staff can apply for up to $1,000. We will award 50 of these.
Any PLC team can apply for up to $2,500. We will award 10 of these.
An entire building to apply for up to $5,000. We will award 8 of these. 
A few important things to keep in mind when applying:
Be thorough in your application
Dream big 
Get creative
Collaborate
Get your principal or program director's approval before applying
Any LPS employee can apply as long as the funds will go to support students in their educational learning and personal development
The following items will not be covered or eligible for funding:
 Food and entertainment
 Teacher recertification
 Personal enrichment course work (masters degree, etc)
 Travel expenses
 Non-District supported technologies
 Substitute fees
 Field Trips
 Programs that require sustainable funding from LPSF
 Capital campaigns
 Before or After school programs 
 School or booster clubs
 Reimbursable expenses of any kind
Classroom furniture (due to Bond coverage)
The deadline to apply is Friday, October 14th at midnight.
Questions? Contact Beth Best at bbest@lps.k12.co.us
---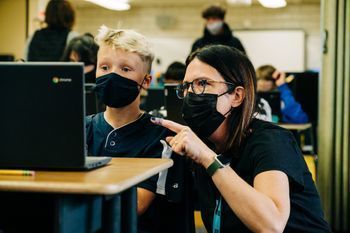 "I am so appreciative of the work LPSF is doing to positively impact my job as a teacher! Thank you for your constant support!"
Kevin Wood, Middle School Teacher